Dental Implants
Dental implants are a great replacement for missing teeth! If you have lost a tooth due to an accident, gum disease or other oral health issues, dental implants are a better and more natural alternative to dentures or other non-permanent solutions.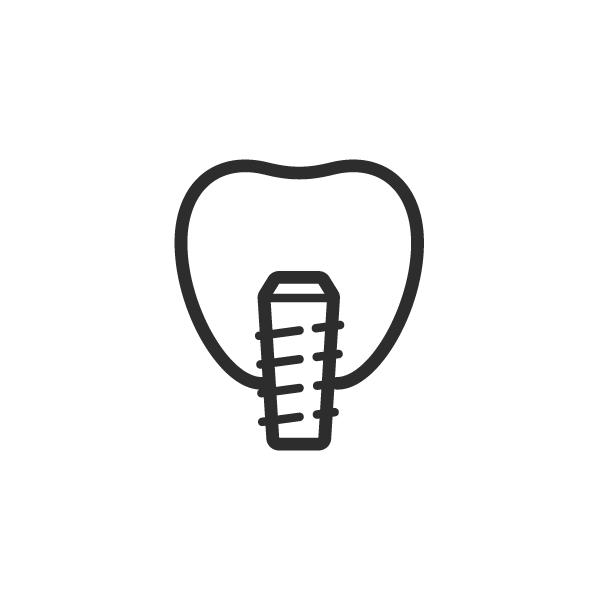 ADVANCED MINNEAPOLIS DENTAL SERVICES
Show your complete smile
Dental implants offer a fully functional and more natural feeling substitute for missing or extracted teeth.
HOW IT WORKS
What's A Dental Implant?
A dental implant is simply a titanium metal post that is implanted through the gums and into the jawbone. The implant takes the place of the tooth's natural root which a ceramic crown is then applied on top of the post, replacing where the original tooth once was. There are several types of dental implants: single tooth replacement, multiple teeth replacement, full arch replacement and All-on-4. Your needs will determine what type of dental implant is placed.
Besides aesthetics, there are several reasons getting a dental implant can be important to your oral health when missing teeth:
Other teeth surrounding the gap tend to shift to fill the missing space
Your smile and self-confidence can suffer when teeth are missing in the front of your mouth
The jawbone can tend to shrink when the missing tooth's root is no longer present
Missing teeth can make it difficult to eat an impair your ability to speak
You will discuss your needs with Dr. Forbes concerning dental implants. Typically our patients are good dental implant candidates, but there are some cases where lack of jawbone or the age of the patient can be a factor. Dr. Forbes will refer you to an oral surgeon for a consultation.  After you have gone through the dental implant process with the oral surgeon you will return to our office for the final restoration.  A permanent crown and post will be placed over the implant.
Request an Appointment
Contact our Minneapolis dentist office today to schedule your dental appointment!